It is always easier to grow with a mentor, so meet the very first virtual teacher for drawing using SketchAR and augmented reality!
Your skills develop faster if you listen to the advice of professionals. It's no secret that the era of virtual assistants is gaining momentum. This wave is ever increasing. Voice assistants such as Alexa, Siri or Cortana and all kinds of bots make the life of users easier, helping them to understand the functions of products, ordering food or managing the house with the IoT (Internet of Things).
Such a vast interest in virtual assistants is due to the development of artificial intelligence, machine learning, and neural networks. Companies have opened up new opportunities in the development of services and products to give the user in time a more complete experience.
We are pleased to present to you the very first virtual assistant for drawing. This characters will provide you with some secrets, and give you advice for drawing. Be warned, they joke a lot and don't like to be kept waiting ;)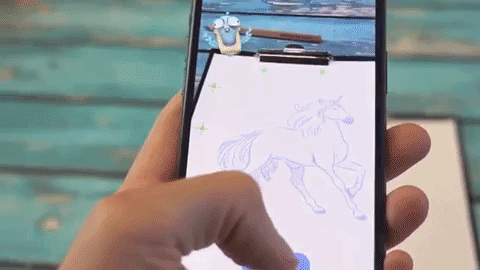 The main distinguishing feature is the learning process of the character based on your activity. The advice becomes more personalized thanks to machine learning. After a few lessons, the virtual assistant will understand your drawing skills level.
Now SketchAR is a full-fledged tool for teaching drawing with the help of augmented reality and machine learning with multiple virtual teachers. The drawing process has become easier and more fun.
Check out the assistants on iOS. We will add it on Android later this fall.
Love art and tech!
Thanks,
SketchAR team