Since the launch of SketchAR in 2017, our mission has been and always will be to invent tools that allow people to show what they are capable of doing. Creativity is an essential skill today. It moves us further, makes us better. Therefore, our team sees its major focus in building a personalized experience to provide everyone (even without any artistic skills) with satisfying feelings through a unique interactive approach.
Creativity is not just about drawing, it's a mindset that involves a suite of tools and techniques we have on SketchAR. And now we're excited to announce our new feature — AR Masks — created at Yellow Collabs closely with Snapchat.
The Yellow Collabs is a 13-week remote program aimed at companies and their developers who want to work hand in hand with the Snap team to better understand how to build on its platform. Since late September 2020, nine participating companies, including SketchAR, have got weekly office hours with Snap experts, as well as access to a monthly speaker series and other networking events. The Yellow Collabs Showcase has been supposed to be the final event to share their developed products with the public.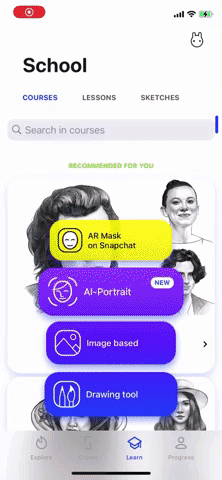 The SketchAR Mask Editor lets our users make custom AR lenses on Snapchat in minutes. To see how it works: open our app and tap "Create AR Mask" — a special template will appear. You can fill it in expressively or step by step (it's a quite pleasant process, actually). Then, if you're satisfied with the result, tap "Try Lens". Finally, transfer the mask to Snapchat. Your friends can also use and save your masks.
In addition, we've opened a dedicated category in the SketchAR feed where users can find and explore masks of other creators.
Check out the presentation below by Andrey Drobitko, founder and CEO of SketchAR.
We're looking forward to your cool lenses made with SketchAR & Snapchat.
---
Show you at your best and have fun!